Tu Ba'Av: What's Love Got to Do with It?
Move over, Valentine's Day! Today is Tu Ba'Av, otherwise known as the Jewish festival of love. Tu Ba'Av, so called because it is celebrated on the 15th of the Jewish month of Av, is heavily commercialized in Israel. You can't walk into a mall without being accosted by flowers and heart-shaped candies. Israeli hotels offer discounts for lovebird getaways and radio stations play the cheesiest of love songs in honor of the day.
But in the ancient city of Shiloh, which dates back 3,000 years, and was once the site of the Tabernacle and the first capital of the Israelite kingdom, Tu Ba'Av has a different meaning altogether.
We spoke to Eliana Passentin, originally from San Francisco, now a resident of the settlement of Eli, whose dining room overlooks Shiloh.
"In Biblical times," Eliana explains, "a civil war between the tribes of Israel resulted in the law that there was to be no intermarriage between the tribes. For the sake of continuity of the Jewish nation, however, an exception was made on the 15th of Av, when the tribes of Israel were permitted to intermarry. On this day, young women would go out into the vineyards in Shiloh, dressed in borrowed white gowns, and dance, while the men would watch, and matches would be made. A singles event Biblical-style."
Eliana is so passionate about the spiritual and religious importance of Shiloh that she and her husband lived for ten long years in a caravan in Eli before deciding to build their home in the specific plot of land that overlooked the place where the Tabernacle stood 3,500 years ago, in Israel's first capital.
Not only does she live in the region, but she works as a guide exclusively in Binyamin, hosting groups and delegations from all over the world. In her home, she spreads the message of unity – which is the message of Shiloh. She is also an avid photographer and puts her skills to good use in running Ancient Shiloh's Instagram account which has an impressive 16.5k followers. "Instagram is a unifying force in social media. Rather than people arguing – as they do on Facebook – beautiful pictures bring people together."
"When we built our home," Eliana describes, "we used the floor plan from the time of Joshua found in the excavations in Shiloh, a typical Israelite home. We made a few changes (it's doubtful Joshua had underfloor heating and running water) but it was important for us to build like they did in ancient times. Every one of our windows tells a different story; every one of our views has a piece of history. Eliana's living room window, for example, is called the 'Hanukkah window.' You can see the first and last place where the Maccabees battled against the Greeks."
Eliana says her morning prayers while looking down the mountain at the same spot where Biblical Hannah stood so many thousands of years ago and prayed her famous prayer for a child. This prayer is extremely significant because it is the first time in the Bible that it is mentioned that a woman prayed directly to the Lord.
But we digress. Let's get back to love.
Over the last ten years, Ancient Shiloh, a national heritage site, has reignited the festival of Tu Ba'Av and organizes an annual event called "Mecholelot Bacramim" – Dancing in the Vineyard. Each year approximately 3,000 women from across Israel, and around the world, from all different walks of life, and even different religions, gather to celebrate the day in the location where the Biblical festival actually took place. The festival, which this year took place this past Tuesday, featured different kinds of dance, including Zumba, modern, and Eastern, as well as make-up artists, concerts, and various workshops.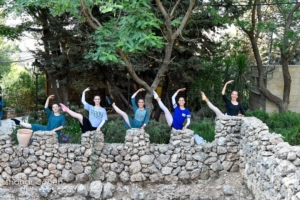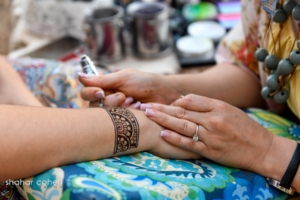 What is most striking about this modern-day celebration of Tu B'Av?
Only women are present at Shiloh's Festival of Love.
"The story of Tu B'Av is not necessarily about romance between men and women," Eliana shares. "It is about unity, love, togetherness, and forgiveness. It was a day when the tribes would put their differences to the side and join together for the sake of the Jewish people."
"When a group of women, who were previously strangers to each other, spend the day dancing together," Eliana continues, "they are no longer strangers at the end. That's the beauty of unity and female empowerment."
Happy Tu Ba'Av From Shiloh!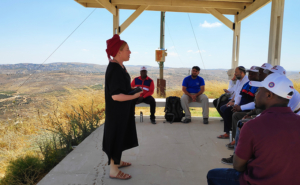 Eliana Passentin | ancient_shiloh